Trusted Pest Control Experts For Las Vegas, Dallas/Fort Worth & St. George, UT
Evolve Pest Control began in 2010 as a small pest control company based out of Mesquite, Nevada. Over the last decade, we've grown into a company servicing three states. Providing residential and commercial pest control to our service area of Dallas/Fort Worth, the Las Vegas Metro, and St. George, Utah, Evolve Pest Control is proud to offer superior pest control with exceptional customer service to our customers. We stand behind our motto of providing peace of mind through consistency and excellence!
What Sets Evolve Pest Control Apart?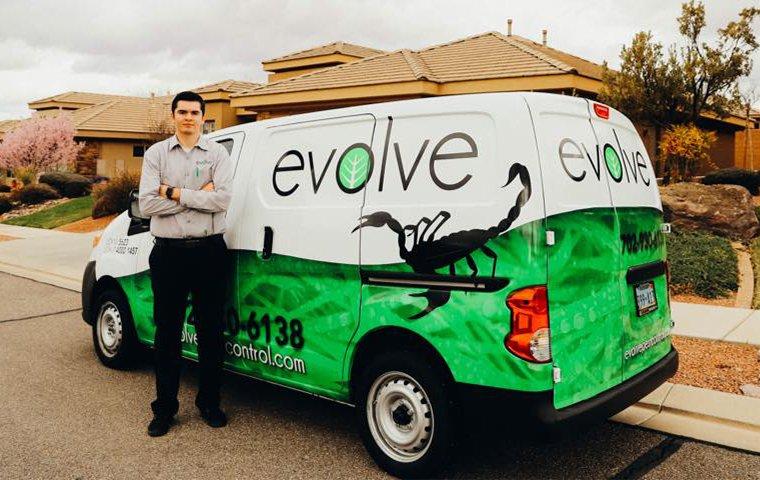 At Evolve Pest Control, our mission is to provide our customers with high-quality service that is accurate, consistent, and covers a wide variety of pests.
Here are some of the ways we achieve this goal:
We offer same-day pest management services, if needed.

We offer free estimates for our pest control services over the phone.

We provide a money-back guarantee; if you have to call us back more than twice between two regularly scheduled services, we'll refund you for your last paid pest control service.

We offer home pest control plans and commercial pest control solutions.

We focus on providing pest control with quality and consistency.

We utilize high quality products that are family, pet, and eco-friendly.

Our experts are thorough and detailed during every service appointment.

We'll send an email or text notification reminder before our appointments, have our technicians call you when they're on their way to your home, and knock on your door to let you know that we've arrived before performing any treatments.

We frequently perform shadowing on our service technicians to make sure all of our experts are appropriately equipped and trained.

We conduct ongoing training for our pest control technicians to ensure we're constantly improving our knowledge, techniques, and treatments.
Evolve Pest Control's Core Values - What Makes Us... Us?
Back in 2010, Nephi Julien purchased a small pest control company in Mesquite, Nevada with approximately 300 customers. In January of the next year, Nephi partnered with Shad Teerlink to expand and build a whole new pest control company. This was the beginning of what would eventually become Evolve Pest Control!
From the moment Nephi Julien and Shad Teerlink joined forces to operate Evolve Pest Control, they began to look into the problems in the pest control industry and how to solve them within their own company to truly fulfill the needs and desires of their customers. Through industry experience and hours of research, they developed a service that meets the needs of their customers while standing behind an unwavering core set of values. At Evolve Pest Control, every employee has five core values that they strive to live by:
1. Integrity
We strive to be honest in both our words and our actions so that you will never have to question the character of our technicians or our company as a whole.
2. Drive
Our professionals are dedicated to going above and beyond expectations with an unwavering commitment to everything we do!
3. Personal Development
We never stop learning! We are continually improving ourselves, our knowledge, our methods, and our skillset to provide you with the best possible service.
4. Unselfishness
At Evolve Pest Control, we know that our customers are why we are here and how we get to keep doing what we love, which is why we always make sure to put them first!
5. Positivity
The mind is a powerful tool, and we believe that there are endless possibilities to what we can achieve when we spread positivity and keep a positive outlook.
Quality Pest Control Services From The People That Care!
At Evolve Pest Control, you're not merely another account number; we treat you and each and every one of our customers as if you're our only customer, providing you with the quality services necessary to eliminate your pest problems in a way that works best for you. See the difference for yourself when you contact Evolve Pest Control today!
Request A Free Quote
Complete the form below to schedule your no obligation quote.