Home Pest Control Plans For Las Vegas/Mesquite, NV & Dallas/Fort Worth, TX
If you only see a few pests in or around your home, you may believe that you're dealing with a small pest problem that you can easily handle yourself. Unfortunately, more often than not, this is not the case. For every pest that you see in your home, whether you're dealing with ants, cockroaches, rodents, or some other pests, there are likely dozens more hiding just out of sight. Often, when you attempt to solve your pest problems using DIY strategies and products, you can make the problem worse.
Insects and rodents can be a nuisance, but that isn't the biggest problem they can cause. Pests can also spread harmful illnesses, introduce parasites into your home, and cause a lot of damage to your home and belongings. So when pests invade, it's time to call the Las Vegas/Mesquite & Dallas/Fort Worth pest control experts at Evolve Pest Control!
Evolve Pest Control's Home Pest Control Plans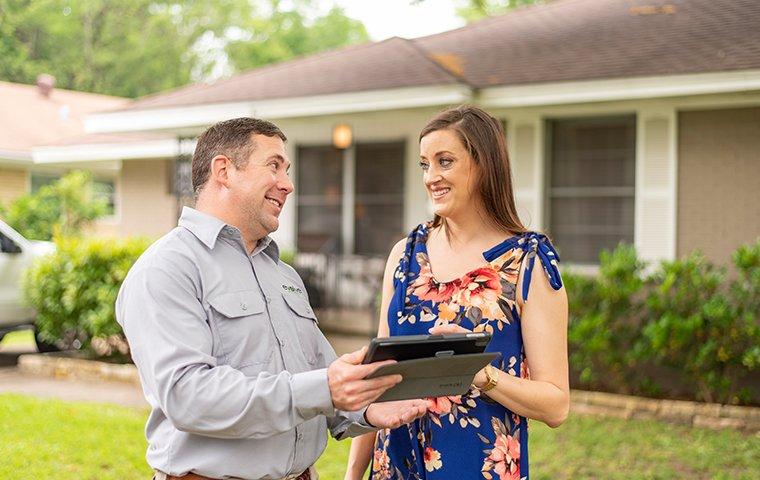 When pests become a problem, the general pest control plan offered by Evolve Pest Control is the way to go. This ongoing plan protects your home from the most common pests in Las Vegas /Mesquite and Dallas/Fort Worth Metro homes.
At Evolve Pest Control, we begin by providing you with a free estimate over the phone. If you agree to our service, we'll schedule your initial appointment. During your first service visit, our technicians will treat the following areas:
Exterior Pest Control Treatments
Spraying the areas around windows and doors

Sweeping and spray treating the perimeter of the fence line

Sweeping and de-webbing the eaves and other areas around the home

Treating sources of standing water & shrubbery around the yard to reduce pest activity up to 30 ft. away from your home

Treating problem areas in the yard, like rock walls, boulders, gravel barriers, etc.

Using a granulated pest control product to treat the lawn and shrubbery for pest invaders

Performing ant control treatments for common black ants, Pharaoh ants, and fire ants around the property
Interior Pest Control Treatments
Treat cracks and crevices around the house for common pest invaders like ants, cockroaches, spiders, occasional invaders, and more.
After the initial pest control treatment, we'll return on a bi-monthly basis to re-treat the exterior of your home as well as the interior on an as-needed basis. If pests continue causing problems in your home or on your property in between our regularly schedules service visits, we'll return to re-treat your property at no additional charge!
*Includes ants (including fire ants), cockroaches (American and Oriental), crickets, centipedes, millipedes, earwigs, silverfish, fleas (exterior), ticks, spiders, scorpions, and wasps.
Our Residential Pest Control Process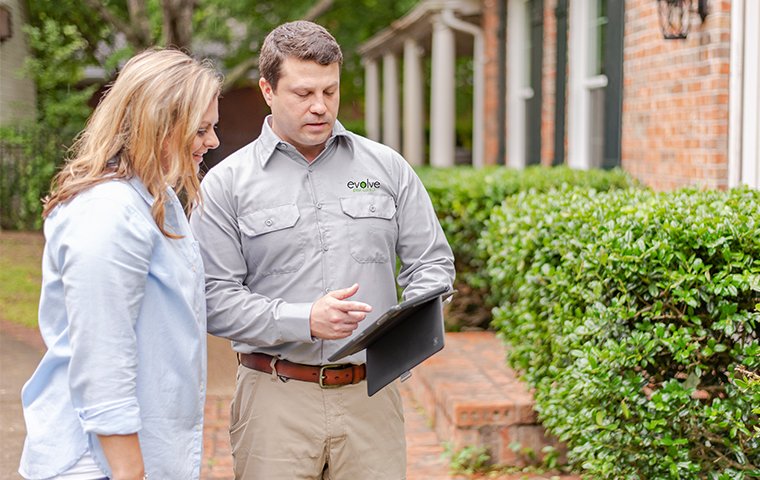 High-Quality Customer Service
Here at Evolve Pest Control, our highest priority is taking care of you, our customers. When you partner with us to protect your home, family, and pets from pest threats, you'll receive the highest level of service possible with a commitment to go above and beyond your expectations!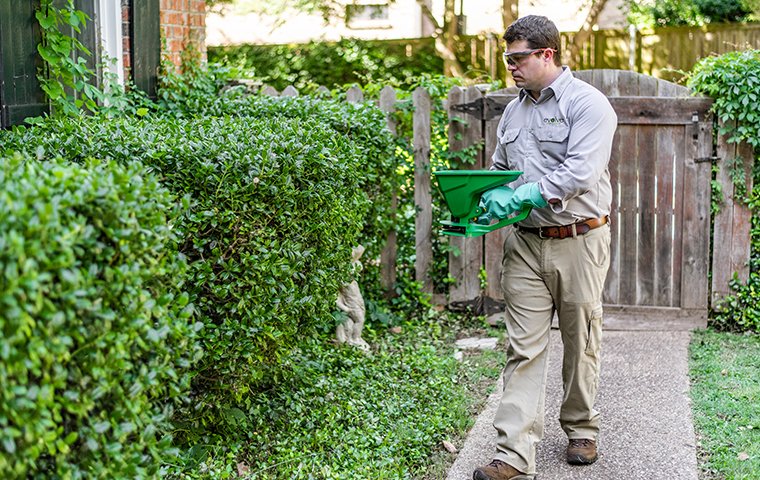 Quality Pest Control Treatments
Your family is important to you, which makes them important to us. It's with them in mind that we choose the quality products we use. Our treatments are family, pet, and eco-friendly, so you won't have to worry about our treatments putting your home or family at risk.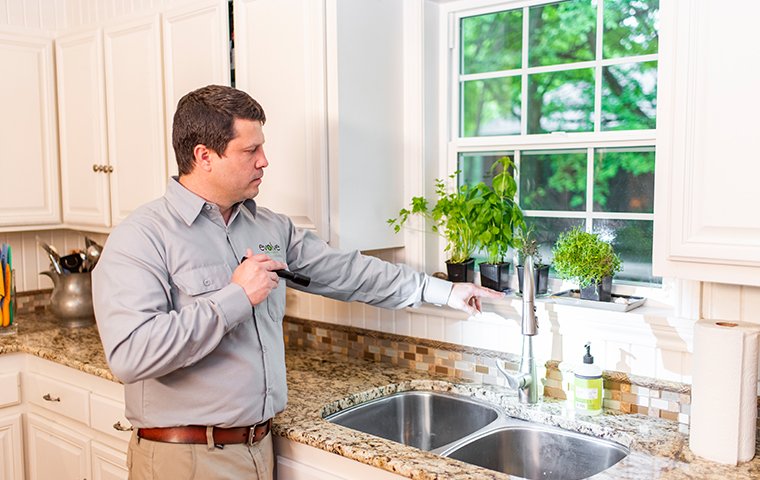 Our Pest-Free Guarantee
If our service doesn't work, we're not doing our job right, plain and simple. That's why we offer our customers a money-back guarantee. If pests return in between visits, and you have to call us more than twice between regular scheduled visits, we'll return to re-treat and refund the cost of your last paid service.
Our Additional Pest Control Services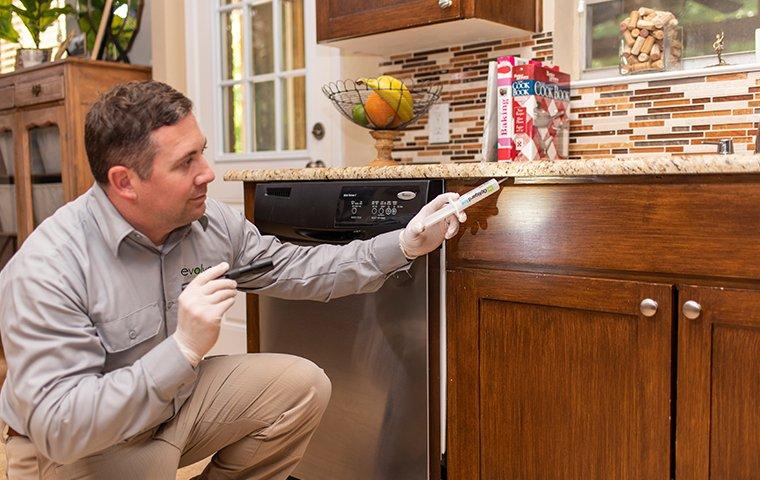 If you're experiencing pest problems that are not covered under our general pest control plan, we can still help! Evolve Pest Control offers a wide range of targeted pest control services to take care of your specific pest issues, including:
Bed Bug Control - Inspections, full-house and liquid treatments, and follow-up.
Bee Control* - One-time nest removal services and a 30-day warranty.
Flea Control (Interior) - Spot treatments, follow-up, and a 30-day warranty.
German Cockroach Control - Inspections, liquid, bait, and spray treatments for kitchen and bathroom areas, follow-up visits, and a 30-day warranty
Mosquito Control** - Monthly treatments (April-October), one-time treatments for special outdoor events, and fogging treatments and In2Care traps.
Rodent Control - Inspections, bi-monthly rodent control services (bait stations, removal, and exclusion services), rodent sanitation services, and follow-up.
Termite Control - Inspections, Sentricon® System with Always Active and Termidor® termite treatments, 10-year warranty for liquid treatments on areas treated.
* Our bee control services may be limited in our Texas service locations.
** Our mosquito control treatment for our Las Vegas service area only consist of In2Care traps.
At Evolve Pest Control, the frequency of our pest control treatments varies depending on the specific service. While some of our services require only one treatment, others are ongoing treatment plans. To learn more about each of our specific pest control offerings, please give us a call at Evolve Pest Control to talk to one of our knowledgeable experts.
Protect Your Home & Family With Pest Control From Evolve Pest Control!
From common household-invading pests such as ants, cockroaches, and spiders to more dangerous invaders like mosquitoes and termites, when pests get into your home, they can cause serious problems for homeowners. At best, these pests will become a nuisance and make your home an uncomfortable place to live; at worst, they will cause serious damage to your home, introduce harmful parasites like fleas and ticks into your living space, and spread dangerous illnesses to you, your family, or your pets.
Don't let pests steal your peace of mind or put your family at risk! With a comprehensive residential pest control from Evolve Pest Control, you'll receive efficient and effective solutions you can count on. To get quality pest protection for your Las Vegas/Mesquite, Dallas/Fort Worth, or St. George, UT home, contact Evolve Pest Control for a free estimate!
Request A Free Quote
Complete the form below to schedule your no obligation quote.