Quality Pest Solutions For Hurricane, UT
Hurricane is a city in Washington County located about 16 miles away from the beautiful Zion National Park. Our welcoming and family-friendly atmosphere make Hurricane a great place to live. Unfortunately, we aren't the only ones who enjoy living in this area. A wide variety of pests also live in Hurricane and are always looking for ways to invade your property and make it their own. When it comes to defending your Hurricane home or business from pests, you can't go wrong with a little help from the technicians here at Evolve Pest Control. For nearly a decade, we have been proud to provide top-of-the-line pest management strategies that will keep your property pest-free throughout the entire year. Say goodbye to nuisance and dangerous pests when you partner with Evolve Pest Control today.
Home Pest Control In Hurricane, UT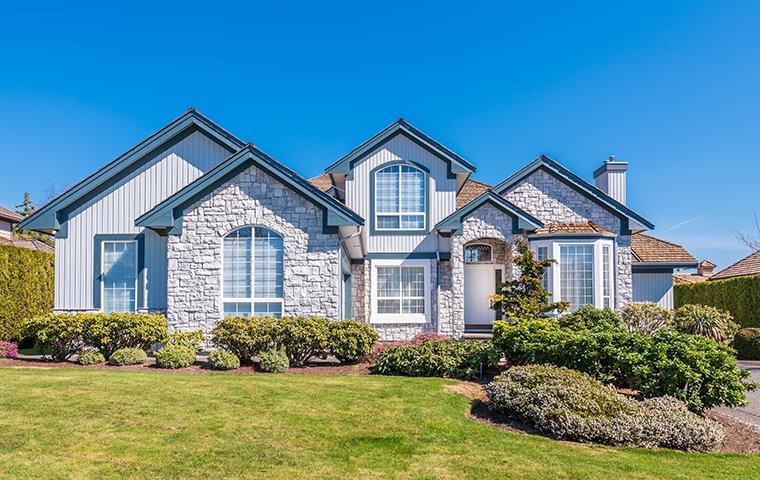 Your Hurricane home is not the place for pests. Even if you only see a few pests around your property, there's a chance that you have a large pest infestation on your hands. Whether you're dealing with cockroaches, rodents, ants, or other pests, you need professional home pest control services from Evolve Pest Control. Our licensed technicians have the skills and experience needed to solve pest problems of all shapes and sizes. No matter what type of pest problem you're facing, the professionals from Evolve Pest Control have you covered. We provide general pest management options as well as additional pest control services to target and eliminate specific pest issues. If you're tired of sharing your hurricane home with pests, the technicians here at Evolve Pest Control can help. Give us a call today for more details about our residential pest control process.
Commercial Pest Control In Hurricane, UT
When you run a business, you have a lot of responsibilities and tasks to keep track of. And one of those responsibilities is keeping your commercial facility free of pests. Pest infestations are detrimental to the success of your Hurricane business. Not only do pests cause costly damage to your property, but they can also spread dangerous diseases and drive away your loyal customers. The only way to ensure your commercial property remains free of pests year-round is to implement an ongoing commercial pest control plan from Evolve Pest Control. And, because we understand that no two businesses are the same, we'll develop a customized treatment plan tailored to your business and unique pest control needs. Don't wait for dangerous and destructive pests to invade your Hurricane business and threaten your reputation. Instead, reach out to the professionals here at Evolve Pest Control to receive ongoing pest control solutions you can trust.
The Risks Of DIY Termite Control Methods In Hurricane
Termite infestations cost United States property owners over 5 billion dollars each year. These small white insects thrive in warm climates and live in massive underground nests. Termite colonies can range from anywhere between a few thousand to over one million individual termites. When faced with the extensive damage termite infestations cause, many homeowners turn to "quick and easy" DIY termite control solutions. Unfortunately, trying to rid your Hurricane property of termites using DIY termite control methods is more of a risk than a solution. Not only are DIY termite control tips usually ineffective, but some methods can even pose a risk to the health of you and your family. To eliminate a termite infestation properly, you need professional termite control services from Evolve Pest Control. We provide several different termite control options, depending on your needs. For more information about all of the termite control solutions we have to offer, give a call to Evolve Pest Control today.
Which Spiders In Hurricane, UT Are Venomous?
Spiders are common arachnids best known for their ability to create intricate webs (though not all spiders create webs). These predatory arachnids play an important role in the ecosystem by keeping nuisance insect populations under control. All spiders have venomous bites used to paralyze their prey. Thankfully, not all spiders have venom powerful enough to cause health issues in humans. The most dangerous spiders found here in Hurricane are black widow spiders, brown recluse spiders, and yellow sac spiders. Although fatalities due to spider bites are rare in the United States, it's still important to avoid attracting spiders to your Hurricane property. At Evolve Pest Control, we're dedicated to providing excellent services that will protect your home or business from a wide variety of common pests, including spiders. By utilizing eco-friendly solutions, we eliminate your spider problems without threatening the health of your family, pets, and the environment. To eliminate spiders and other pests from your Hurricane property, partner with the skilled pest management professionals here at Evolve Pest Control today. We're happy to find the right solution for all of your commercial and residential pest control needs.
Flea Control Company Near Hurricane
Fleas in Hurricane are a very real threat to local residents, but they can be avoidable. Rather than wait for rodents and wildlife to spread fleas around yards or for family dogs to bring them back from the dog park, people can find comfort in professional flea control in Hurricane from Evolve Pest Control. Our company has been providing worry-free services since 2010. Each of our technicians is expertly trained to make our customers confident in our process.
The flea removal process begins with a highly detailed property inspection that includes both the interior and exterior of our client's home. We use this information to understand what is responsible for bringing fleas to the property as well as where they are breeding. Our technicians then use this information to customize a highly effective treatment plan that addresses all of the nooks and crannies. Each of the products that we use during this treatment is eco-friendly and safe for the entire family. And to ensure our customers' complete safety and satisfaction, we provide a money-back guarantee if we need to provide more than two re-treatments. Our technicians will also work with customers on the small yet effective habit changes they can make to reduce future flea activity. To learn more about our flea control services, please call us today.
Hurricane's Comprehensive Ant-Prevention Guide
Ants can end up in Hurricane's businesses and homes very easily and seemingly overnight in some instances. Local residents will want to try these tips to prevent ant outbreaks:
Be proactive about leaks. Ants are attracted to water, so try to stay ahead of leaks by looking for them regularly. Fix any dripping pipes and shut off faucets completely after using them.
Make cleaning a regular habit. One thing that ants look for most is food, and they will eat anything they find. Try to clean up after cooking, remove trash before it accumulates, and vacuum routinely.
Store food securely. Because ants are already on the search for food, eliminate further enticement by storing all food items in sealed containers.
Seal of entry points. Ants can use almost any opening around a property to gain access to its interior. Some common spots where they enter through include open windows or windows without screens, cracks in foundations, and spaces around doors. Try caulk for crevices in foundations and weatherstripping for loose doors.
Ask for help. Because ants are so easy to attract, there is no replacement for professional ant prevention in Hurricane from a pest expert. Services like these will draw out ants and prevent future issues with safe products. They will also provide a level of knowledge that the average homeowner simply doesn't possess.
For more information on ant control, call Evolve Pest Control today.
A Cheaper Way To Get Bed Bugs Out Of Your Hurricane Home
Rather than spend money on store-bought bed bug treatments that aren't effective, consider professional bed bug control in Hurricane from Evolve Pest Control. Our team of expert technicians has been helping local homeowners find relief from bed bugs since 2010. This signature service begins with an in-depth room-by-room inspection where we check carpets, drapes, baseboards, mattresses, and more for signs of bed bugs.
We then treat every crack and crevice in your home with our highly effective, eco-friendly liquid treatments to eliminate all bed bugs. Our technicians will return one to two weeks later to perform a re-treatment to make sure that we have eliminated all bed bugs. For more information on bed bug control in Hurricane for your home, please call us today.
Six Easy-To-Spot Signs Your Hurricane Home Has A Cockroach Problem
The cockroaches in Hurricane are sneaky pests that hide around food sources in your home and come out primarily at night. These factors can make them very tough to detect, but being aware of a cockroach infestation is very important. They are capable of spreading the pathogens that cause gastrointestinal issues and E. coli infections, as well as over 35 bacteria. Here are six signs that might help you determine the presence of cockroaches:
A strong mold-like odor that actually comes from their pheromones and signals to other cockroaches that your home is open for business
Shed skin and body parts that are part of the molting process
Any cockroaches that are alive or dead
Chew marks on food packaging like bags of flour, crackers, pasta, and oatmeal
Fecal matter that looks like dirt all around your countertops
Smear marks on your walls and molding that come from liquid feces
If you notice any of these signs in your home, the best thing to do is bring in professional assistance from Evolve Pest Control. Not only are cockroaches potentially very dangerous but they are also very challenging to get rid of if you don't have the right products or knowledge. Our team has been providing peace of mind from roaches since 2010. We utilize eco-friendly products to create lasting relief that you can trust. For more information on cockroach control in Hurricane, call us today.
Request A Free Quote
Complete the form below to schedule your no obligation quote.