Quality Pest Solutions For Logandale, NV
If you love the state of Nevada, there are places you can live that don't involve the noise and hustle of Las Vegas. About an hour northeast of the lights of the strip sits one of those quieter options, Logandale, NV. While it may not have the crazy nightlife of its neighbor, Logandale residents love the sense of quiet community.
But moving away from the noise and lights doesn't mean you won't have pest problems at your home or business. At Evolve Pest Control, we have been serving Las Vegas and the surrounding area for over 10 years. We pride ourselves on being the industry standard in pest control. Here are just a few of the reasons why:
Free estimates over the phone.

A money-back guarantee that means if pests come back more than twice between our regular visits, we'll refund your last service.

Same-day services if necessary.

Our trained technicians use pest control products that are of the highest quality and safe for your family, pets, and the environment.

All of our technicians participate in continuing education to make sure we are always on the cutting edge of pest control techniques and treatments.
If you are looking for pest control from a company you can trust, look no further than Evolve Pest Control.
Home Pest Control In Logandale, NV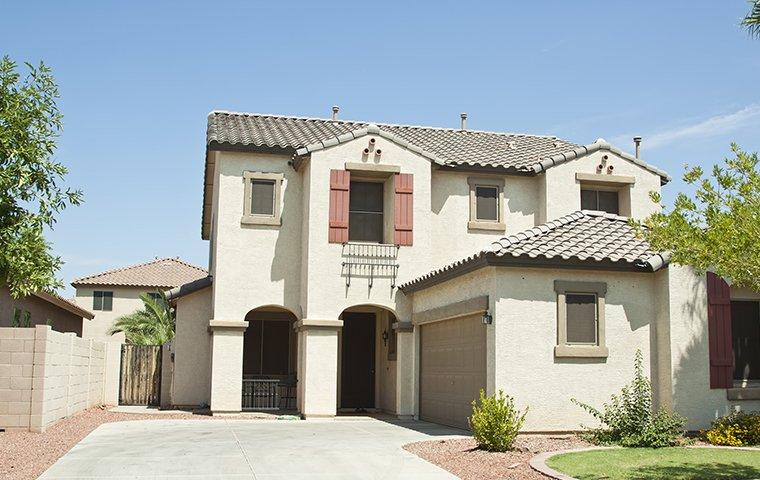 Do you have a pest problem in your Logandale home? Are you worried about pests jeopardizing your home or putting your family in danger? If so, then call us today. One of our highly trained, customer service-focused technicians will provide a quote over the phone and begin service quickly. This service includes treating the cracks and crevices in your home for common pests, and a wide variety of outside services, including:
Spraying around windows and doors

Treating around fence lines

Spider web removal

Treatment for problem areas like rock walls, boulders, standing water, and shrubs that may harbor pests

Granulated treatments on your lawn and shrubs

Ant control treatments
We know that pests can be a major issue from Logandale homeowners. At Evolve Pest Control, we are here to protect your home and family from pests. Let us get started building a professional residential pest control that can eliminate pests in your home and keep them from coming back.
Commercial Pest Control In Logandale, NV
Running a business is hard enough without worrying about pests. At Evolve Pest Control, our goal is to make sure your business has a plan in place to make sure pests don't cause you any unnecessary headaches now or in the future.
We know that every business is different and therefore requires different solutions for their commercial pest control needs. We can develop an individual pest control plan for a wide variety of businesses, including:
Casinos

Educational facilities

Homeowners associations (houses and common areas)

Restaurants

Veterinary offices

Warehouses

Many more
Call us today and let us get to work keeping your business pest-free. We will develop a plan to fit the specific pest pressures facing your business and perform regular follow ups to keep your business pest-free.
Logandale Homeowner's Effective Rodent Control Guide
"Help! There's a mouse in my house!" A rodent sighting is enough to put any homeowner on edge. These pests can spread disease and cause damage to your home. The good news is, there are things you can do to keep rodents out of your home:
Use door sweeps, repair broken window screens, and seal cracks in your foundation to block access.

Keep food stored in airtight containers.

Store firewood at least 20 feet from your home.

Trim shrubs and trees near your home that can provide shelter.

Throw away garbage in a sealed bag.
If you think you have a rodent problem in your home, call us today for rodent control. We can inspect your home for signs of rodents and help you develop a plan to keep them out.
How To Keep Ants Out Of Your Logandale Business
Ants are a tiny pest that can cause big problems for business owners. Even if they aren't biting or stinging your customers or employees, just their presence can drive people away. No one wants to eat or shop in a building with ants crawling all over. Fortunately, there are some steps you can take to keep ants out of your business and protect your employees and customers:
Visually inspect your property for signs of ants.

Designate specific areas from your employees to eat.

Clean up any food or drink spills quickly.

Seal any potential entry points in your building's foundation and walls.

Throw trash away regularly in sealed bags and store in cans with tight-sealing lids.

Clean trash cans frequently using an ammonia or other disinfecting solution.
While these options will help keep your business ant-free, the best solution to keep ants out of your business is to partner with Evolve Pest Control to develop a plan to keep your business free of ants and other pests.
Why DIY Methods Fall Short When Dealing With Bed Bugs In Longdale
When you live in Longdale, you can encounter bed bugs nearly anywhere you frequent. They survive off of human blood, so they can survive in places like assisted living facilities, public transportation, movie theaters, schools, and homes. One of the main reasons why DIY methods fall short when dealing with bed bugs is because they are simply so hard to avoid. Bed bug prevention requires a high level of attention to detail and following strict preventive measures. Something as simple as having bed bugs in your home can easily mean spreading them to your workplace.
If you've developed a bed bug infestation in your home, DIY methods will fail you once again. Bed bugs are nocturnal creatures that make a point of coming out to feed off of you while you're asleep. They do this because it's the time of day when your body is at its warmest and when they can feed undisturbed. This also makes locating the source of an infestation a challenge, so how would you even know where to apply these products? Bed bugs usually live in places like inside mattresses or couches, which makes accessing infestations all the more difficult. When you purchase products at the hardware store, you probably don't have the knowledge that a pest expert with significant training has, so you might not even know how to use them. For more information on reliable bed bug control in Longdale, call Evolve Pest Control today.
Longdale Homeowners Guide To Avoiding Cockroaches
Avoiding the cockroaches in Longdale is one of the best things that residents can do to protect their health. Here are some important tips that are worth following:
Fix any moisture issues. Water is one thing that cockroaches can't live without and certain species will even use sewers to enter homes. Make sure that all drainage systems are in good working order, fix leaky pipes, and don't allow moisture to accumulate in crawl spaces, basements, and beneath sinks.
Keep a spotless home. Cockroaches are also attracted to any food bits that they can find, so vacuuming on a regular basis is very important to deterring them. Homeowners might want to limit eating to one room of the house to help with this. It'll also be necessary to take out the trash frequently and make sure to always use proper trash bags in bins.
Address entry points. To actually keep cockroaches from getting inside, try to seal off any entry points that they might use. These spots include plumbing voids, gaps around doors, and small cracks in foundations. It's also important to inspect packages before bringing them inside.
Ask for assistance. Rather than potentially getting exposed to health risks like streptococcus and E. coli, bring in professional cockroach control from a trained professional. Roaches are notoriously difficult to eliminate and some species are even growing resistant to many common treatments, which makes professional intervention even more necessary.
For more information on trusted cockroach control in Longdale, call Evolve Pest Control today.
The Trick To Keeping Crickets Out Of Your Longdale Home
Crickets in Longdale may seem friendly, but when they end up in your home, they can reproduce in large numbers and ruin precious personal items made of delicate fabrics. Because these pests are notoriously difficult to prevent, the trick to keeping them away is professional cricket prevention in Longdale from Evolve Pest Control.
Our company has been providing these services since 2010. Each of our technicians has been trained to deal with common invaders like crickets, and we include treatments for these pests in our residential pest control offerings. We combine detailed property inspections, eco-friendly treatments, and routine maintenance as a way to keep crickets out of your home throughout the year. Some of the services that we include are treating cracks and crevices, laying granular bait, spraying your foundation, and addressing harborage sites for lasting protection. For more information on cricket control, call Evolve Pest Control today.
Who Else Wants Earwig Prevention Tips for Their Longdale Property?
Longdale property owners might find themselves with earwig infestations from time to time, and while they are nuisance pests, prevention is still important. Try these tips to keep earwigs off of your property:
Clean up your yard. Earwigs primarily feed off of decaying vegetation, so be sure to get rid of dying plants, leaf piles, and any fallen fruits or veggies in your garden. This is also a good time to clear out gutters from any yard debris as well.
Fix moisture issues. These pests are on the search for moisture, so fix leaky drains and pipes and always shut off the shower completely after using it.
Fill in openings. To keep earwigs out of your home, apply silicone-based caulk to any flaws in your foundation.
Bring in the pros. For reliable earwig prevention in Longdale, contact your local pest expert for year-round services.
For more information on earwig control, call Evolve Pest Control today.
Request A Free Quote
Complete the form below to schedule your no obligation quote.