Experienced, Dependable Pest Control Services In Moapa, NV
Moapa is a small, unincorporated community in Clark County, Nevada. While our population isn't large, we're known as a great place to stop for some scenic desert views and local recreation. But with so many travelers passing through our area to take advantage of our beautiful sunny weather, Moapa is no stranger to pest activity, either. Thanks to the arid desert climate, invasive species can remain active a lot longer than in other parts of the country. It's important for local property owners to know how to properly protect themselves from infestations.
Home Pest Control In Moapa, NV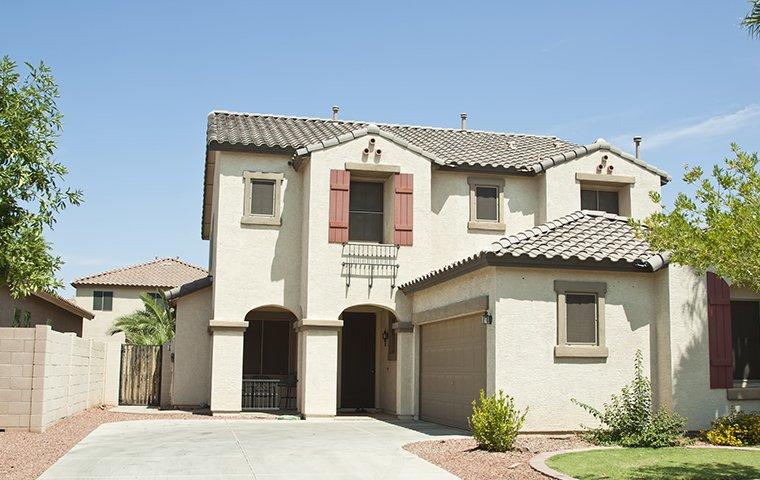 No one wants a pest infestation, but often people don't worry about preventing them until a population is already there. The better approach is to address factors that attract pests and to seal off potential access points long before pests have a chance to get inside. Once they're in, pests can lead to property damage, health issues and are generally harder to get rid of with normal means. For all these issues -- from early prevention to timely elimination -- you should turn to Evolve Pest Control. We have experience preventing pest problems and fully addressing ones that are already there. Here's how we break down our services:
Inspection: Whether you've already got an infestation or you just want to determine your level of risk, the first step is a thorough inspection by one of our trained technicians.
Treatment: We'll use the findings from our inspection to craft a pest control plan that's right for you. We believe in up-front pricing and we always offer a money-back guarantee.
Follow-Up: The most important part of pest control is keeping up on it, which is why we check back with you a few weeks after your initial service to make sure the problem is gone.
Don't wait until pests are already crawling around your home before you address pest control, contact Evolve Pest Control to get started today.
Commercial Pest Control In Moapa, NV
Running a business is difficult, which is why very few of them can afford the damage or loss of reputation that often comes with a pest infestation. It's far cheaper in the long run to partner with pest professionals early than to only turn to experts when pests are already there. At Evolve Pest Control, we've helped the following types of businesses mitigate the issues caused by pests:
Casinos: In Nevada, casinos are everywhere, but people don't tend to think of the ways that casinos attract pests. They often have food and drink services, meaning casinos have all the same things that restaurants and bars have making them prime pest targets.
Educational Facilities: Schools are another place we don't tend to think of as pest hubs, but as properties where food is served daily and people from many different households mingle, schools are a place where pests are both attracted and introduced.
Restaurants: Of course, restaurants have to worry about pest concerns constantly, since an infestation can lead to fines and forced closures.
Warehouses: Places, where goods are stored, make for ideal nesting grounds for pests looking for a secluded corner to call home.
We help other types of businesses, too, so no matter what kind of property you manage, contact Evolve Pest Control to see how we can help.
Rodent Control: How To Stop Rodents From Getting Into Your Moapa Home
Most people don't realize just how common and invasive rodents really are. Not only are they attracted by the food and shelter found within our homes, but rodents are also experts at hiding from detection. That means you may have a rodent problem and not even realize it. For these reasons, you need to consider ways to prevent rodents before they can lead to larger issues.
Food & Trash: Improper food and trash storage are the main attractants of rodents and other pests. Rodents can use their sensitive noses to track down scraps no matter where they are on a property.
Landscaping: The layout and upkeep of your yard are also factors. Overgrown grasses and plants or vegetation that's too close to your exterior walls can all be factors that rodents utilize to nest in your yard and later find ways indoors.
Treatments: The most effective pest control comes from expert treatments. Contact Evolve Pest Control to learn how we can keep rodents and other pests at bay.
What Keeps Ants Away From Properties In Moapa?
Few pests seem to come out of nowhere quite as ants do. They're so tiny that they can slip through cracks or wander in through the gaps in our doors and windows. And they are attracted to the food and moisture that can be found within our structures. That means eliminating or controlling these factors is often the best way to keep ants away in the first place. Here are some ways to do that:
Food Storage: Even tiny crumbs can be detected by an ant's antennae, so proper food storage and clean-up are crucial.
Trash Storage: Your trash can provides plenty of smells for pests to pick up on, too, so make sure your bins are securely lidded.
Moisture Control: Ants are attracted to moisture. Reducing water vapor in the air or pools from forming around your structure will also help reduce attractants.
Crack Sealing: As tiny pests, no crack or hole should be treated as too small for an ant to get through. Check your exterior regularly and make repairs as needed.
Treatments: Even property owners that do all of these things can still wind up with ants, which is why we recommend turning to professionals for effective treatments. Contact Evolve Pest Control today to learn how we can prevent and eliminate ants.
Request A Free Quote
Complete the form below to schedule your no obligation quote.