Are Mosquitoes Driving You Out Of Your Yard In Dallas/Fort Worth, Texas?
Mosquitoes make going outside miserable. Not only do you have to worry about itchy bites when you have a lot of mosquitoes on your Dallas/Fort Worth or Las Vegas/Mesquite property, but also about the dangerous diseases they spread. Keep mosquitoes out of your yard and off your property with mosquito control treatments from Evolve Pest Control.
Our Mosquito Control Process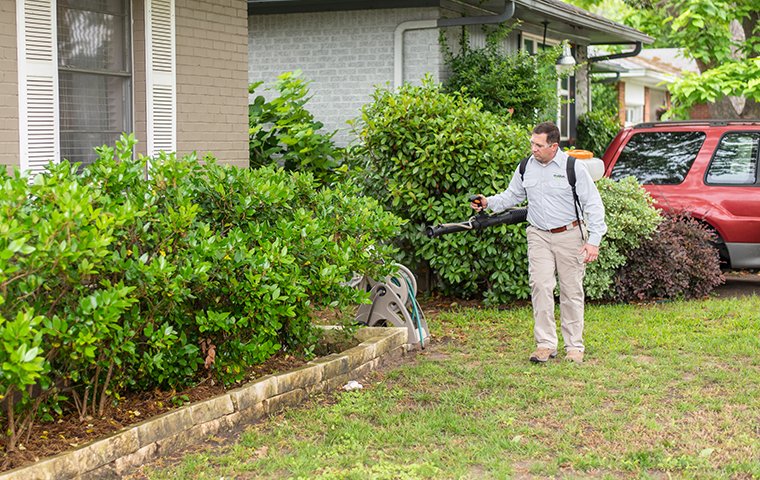 When mosquitoes overtake your yard, you will need a treatment that eliminates them in all stages of development. At Evolve Pest Control, we find that a two-pronged approach to mosquito control is most effective.
Fogging Service*
The first prong is a monthly fogging treatment. We will treat your bushes and trees with a fogging application that eliminates adult mosquitoes where they rest during the day.
Mosquito Traps
The second prong is the installation of In2Care Mosquito Traps. These traps lure adult mosquitoes to them. Not only do the traps eliminate the adults, but they also allow the larvicide to be spread to surrounding breeding grounds, killing the eggs and larvae as well. The traps require regular maintenance, which we include in your monthly service.
*Fogging service is not available in Las Vegas.
**Our mosquito control is a seasonal service offered monthly between April and October, and we also offer one-time services for special events.
Start Enjoying Your Yard Again!
Where there's one mosquito, there are usually hundreds more – and they love to swarm, buzz, and bite. With Evolve Pest Control's approach to mosquito control in Las Vegas/Mesquite, NV and Dallas/Fort Worth, TX, you will see results. Take back your property from mosquitoes and start enjoying your yard again. Schedule mosquito control today!
Request A Free Quote
Complete the form below to schedule your no obligation quote.