Superior Pest Control Services In Overton, NV
Located on the north end of the iconic Lake Mead, Overton is a small community that's part of the unincorporated town of Moapa Valley. This part of Nevada is known for its scenic desert views and resorts, but it's also known as a hub of pest activity since our warm weather allows pests to remain active all year. To avoid infestations in Overton and the surrounding area, you need proper pest control sooner rather than later. At Evolve Pest Control, we can help you every step of the way.
Home Pest Control In Overton, NV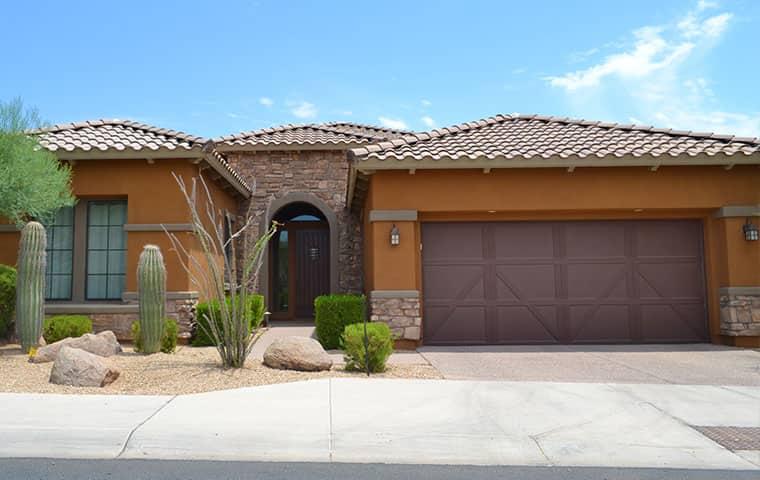 Too often, homeowners think that a pest problem can be solved with a little elbow grease and a store-bought product or two. The problem is, DIY solutions don't often work entirely -- leaving enough pests alive or unaccounted for so the problem comes right back in a few weeks. That means you'll have wasted money and time on something that won't address the root of the problem. The services at Evolve Pest Control are far superior, we don't just treat where the pests you can see are, we treat the entire property. Here's how we help homeowners:
Exterior Treatments: From spraying around windows and doors to the perimeter of your yard, exterior pest treatments provide a shield around your property and directly target the common access points that pests use.
Interior Treatments: Of course, when pests manage to make it inside, we provide solutions to target these affected areas, too. With tiny invaders like ants or spiders, even exterior treatments aren't always enough to keep them out.
Specialized Treatments: While our interior and exterior treatments are comprehensive, they may not be appropriate for dealing with specific infestations, like bed bugs or cockroaches. That's why we provide targeted solutions for common pest problems.
Don't wait until you notice pests crawling around before you act, get started today by calling Evolve Pest Control.
Commercial Pest Control In Overton, NV
Pest populations don't just stick to people's homes, of course. Businesses can fall victim to an infestation, too. Often, the ramifications can be even worse, as business owners have to think about the safety of their workforce, employees, and property. That's why it's a smart investment to turn to experts like Evolve Pest Control for timely and effective pest control. To pests looking for food, water, and shelter, it doesn't matter whether you have the kind of business with obvious sources of food -- like restaurants, bars, or grocery stores -- or you have an office, warehouse, or hotel. Pests go wherever the path of least resistance is, which is why we help a wide range of businesses. Here are some features of Evolve Pest Control's services:
Prompt Service: Pests in professional settings need to be taken care of quickly, which is why we offer same-day services.
Flexible Scheduling: For that matter, we also know that businesses can't have big disruptions to their daily schedules, so we work with you and are flexible on when we come in for inspections and services.
Money-Back Guarantee: All of our services come with a money-back guarantee, so if you aren't satisfied with your service, it's on us.
What Is The Best Way To Control Termites In Overton?
Dry, arid climates like ours mean that outdoor pests can remain active for long stretches of the year. With termites, this means they can establish wide networks of tunnels that quickly overlap with human properties. You probably don't need anyone to tell you how destructive a termite population can be. That's why it's important to turn straight to the professionals if you notice signs of an infestation. Only expert solutions can quickly eliminate the problem, ensuring it doesn't come right back. But property owners don't always notice the signs of a termite problem -- that's where we come in.
At Evolve Pest Control, our trained technicians know how to thoroughly check properties for termites or factors that attract them to yards and, eventually, inside homes and businesses. Our inspections help property owners identify termite populations before they lead to larger costs and issues. We can provide you with guidance and treatments that prevent termites in the first place, rather than simply reacting to them once they're already there. To get started on true protection from termites in Overton, contact Evolve Pest Control today.
Five Ways To Stop Termites From Getting Into Your Overton Home
Professional methods may be the best way to control and contain termites, but it's also important for local residents to know how they can limit their risk level in the first place. Here are some tips for how you can reduce the factors that attract termites and prevent them from getting inside your property:
Landscaping: Proper yard planning and maintenance go a long way, especially since termites are often attracted to these sources of wood before they target structures. Ensure your trees and bushes are planted and kept trimmed back from your outer walls.
Wood Storage: This goes hand-in-hand with landscaping because people who trim their plants back often leave their trimmings in their yards. These piles of wood and leaves are just as attractive to termites. The same goes for stacks of firewood.
Moisture Control: In a desert, pests are especially able to detect moisture from far away. Termites are no different and, not only do they need water to survive, but moisture damage around a structure can also offer them greater access points to interior woods.
Crack Sealing: Termites are tiny, so they can fit through even small cracks or holes in your exterior walls and foundation. That means you need to regularly check for and fix any faults around your home.
Treatments: The most comprehensive and effective method for keeping termites at bay is the treatments offered by Evolve Pest Control. Contact us today to learn how we can help protect your home from termites.
Request A Free Quote
Complete the form below to schedule your no obligation quote.