Stop Termites In Their Wood-Destroying Tracks!
There may be several different species of termites living throughout our Las Vegas/Mesquite and Dallas/Fort Worth service area, but they all have one thing in common: when termites get into your home or business, they'll spend their time actively destroying it. Whether your property has drywood termites or subterranean termites, you will need termite control to eliminate the colony and keep your property from sustaining further damage at the hands of termites. Evolve Pest Control can help!
Our Termite Control Process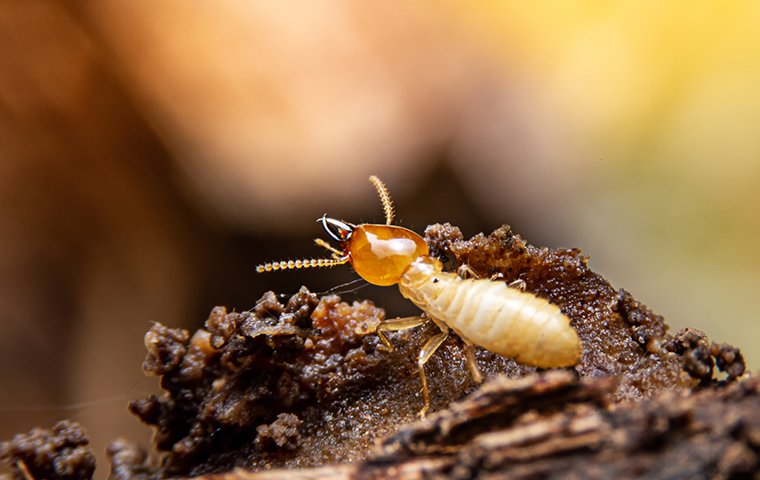 Termite Inspections
If you suspect you have a termite infestation in your Las Vegas/Mesquite or Dallas/Fort Worth home or business, you can schedule an inspection with Evolve Pest Control. We'll come to your property and examine the interior and exterior. We train our service technicians how and where to look for the subtle signs of termite damage, even in hard-to-reach places. If evidence of an infestation is present, we'll take measurements and present you with a quote for our termite treatment services.
Termite Treatments
We provide several residential or commercial termite treatment options based on your specific termite problem in . For example, drywood termites require different treatment methods than subterranean termites. In some instances, we'll use a liquid spot treatment. In others, we'll install the Sentricon® System with Always Active™. We are a Certified Sentricon Specialist™, and if you choose us for your termite control needs, our Sentricon® with Always Active™ comes with a lifetime warranty.
Pre-Construction Treatments
If you are in the early stages of building a home, it's the perfect time to protect it from termites with our Sentricon® with Always Active™ treatments. Having a pre-construction treatment applied prevents termites from getting into your house after building it.
Protecting Your Property From Termites
At Evolve Pest Control, we are well-versed in the termites that invade Dallas/Fort Worth area of Las Vegas/Mesquite area homes and how to treat them effectively. We don't provide a standard service, but instead, tailor the termite treatments to your specific termite problems to eliminate your termite infestation. To schedule your inspection, contact Evolve Pest Control today or purchase one online!
®™Trademark of The Dow Chemical Company ("Dow") or an affiliated company of Dow. Always read and follow label directions.
Request A Free Quote
Complete the form below to schedule your no obligation quote.